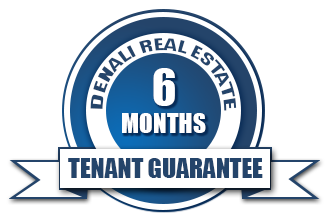 The Denali Tenant Guarantee
At Denali Real Estate, we pride ourselves on our ability to collect, process and evaluate applicant information in innovative ways.
Our proprietary multi-factor screening model ensures we select only the best available tenants for your home.
If ANY Denali Real Estate placed tenant is evicted for ANY reason within the first six months of occupancy after placement,
we will find a replacement tenant at no cost to you.
The Denali Tenant Guarantee applies to all tenants placed by Denali Real Estate in properties currently managed by Denali Real Estate at the time of eviction.
*Denali Real Estate will find replacement tenants at no charge to the Owner provided we continue to manage the property. The Tenant Guarantee applies to new tenant placement costs only which includes property advertising, sign placement, showings and tenant screening and does not include eviction costs, tenant damages, utilities costs or any other eviction or restoration costs.