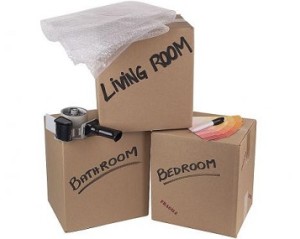 Our goal is to ensure our tenants have the smoothest possible transition when moving out of one of our properties.   Please follow the instructions below as we expect this will answer many of your questions regarding your move.  If you have any additional questions, please contact us.
Notice to Vacate:
Your rental agreement requires a written notice to vacate.  Notice to terminate your lease agreement at the end of the original term shall be given on or before your last rental due date.   For example, if your lease agreement expires March 31st, you must give your notice on or before the final rental due date of March 1st.
Your notice to vacate MUST be in writing and mailed, emailed, faxed, or delivered to our office.  Please follow up with our office to ensure your Notice to Vacate has been received and ask for a written email confirmation if you haven't received one.
Property Inspection:
A move-out property inspection will be completed upon expiration of the lease term and you have removed all items and cleaned the property as required. Once you have moved out and cleaned the property, keys, gate cards, pool keys, garage openers and mail box keys must be returned either to our office before the move-out inspection or at the property during the move-out inspection.  Please call our office if you would like to be present during the move-out inspection.
Forwarding Address:
You should be prepared provide a new forwarding address for security deposit return.  The security deposit less any amounts owed for cleaning or repairs will be sent to your new address along with a deposit reconciliation.  Failure to provide a forwarding address will result in your deposit being mailed to your last known place of residence.
Vacating Before Lease Expiration:
If you vacate the rental property prior to the lease expiration, you will remain responsible for the property until the lease expiration date according to the terms of your lease.  Utility services should remain on during the lease term and until a move-out inspection takes place.
Property Marketing:
We expect to begin marketing your current home approximately 30 days prior to the expiration of your lease.   We will make every effort to work with your schedule for showing days and times to minimize the impact on you.   Please make every effort to ensure your home is as neat and clean as possible for showing appointments.
Utilities:
Utilities must be on during final move-out inspections. Contact utility companies to arrange final readings after the scheduled the move-out inspection.
Security Deposit Return:
We will return your security deposit to you provided there are no delinquencies in rent or outstanding charges or fines and the property is returned in a clean and undamaged condition, less normal wear and tear.
Security deposits, less any deductions, will be returned within fourteen days, excluding Saturdays, Sundays or other legal holidays, after termination of the tenancy and delivery of possession (ARS § 33-1321).
General Cleaning Requirements:
Below are our basic cleaning instructions as you prepare to release your home back to us.  We have also included a printable cleaning checklist for your convenience.  Security and cleaning deposits will be returned if you ensure the property is clean when you leave.
Remove all trash, empty refrigerator, and remove all personal belongings.
Clean all appliances thoroughly inside & out including microwave, refrigerator/freezer, dishwasher, washer & dryer, oven, range, range hood.
Clean Kitchen and Bathroom cabinets and drawers inside and out.
The carpet must be cleaned by an approved professional carpet cleaning company.  Receipt must be provided.
Wash non-carpeted floors with appropriate cleaner.  Remove stains and marks.
Wash walls carefully; pay special attention to areas around light switches, doors and baseboards.
Clean bathrooms including sinks, toilets, tubs/showers and insider vanity drawers.
Clean all windows as needed and repair any damaged screens.
Clean all light fixtures including all ceiling fan blades.
If your are responsible for the lawn care:  Mow, trim and remove debris from yard.
Make arrangements to have your trash picked up before you leave.  Do not place trash and garbage in the recyclable cans or at the curb as fines may apply.
Remove any weeds in the yard and clean up yard as needed.
Replace furnace filter and any burned out or missing light bulbs.
Clean all air conditioning vent covers.
Remove any installed satellite dishes and excess cable wire installed.